BRICS establish $100bn bank and currency reserves to cut out Western dominance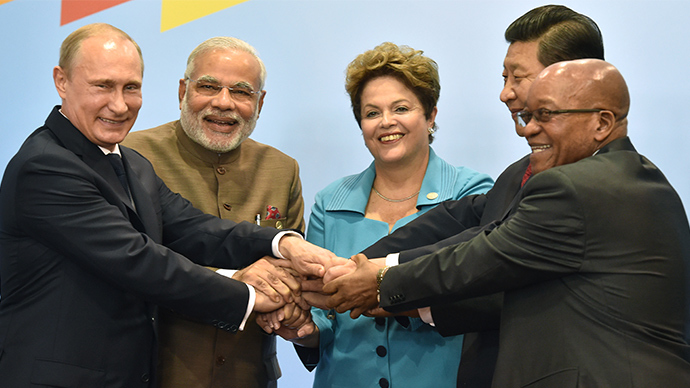 (L to R) Russia's President Vladimir Putin, India's Prime Minister Narendra Modi, Brazilian President DilmaRousseff, China's President Xi Jinping and South Africa's President Jacob Zuma join their hands during the official photograph of the 6th BRICS summit in Fortaleza, Brazil, on July 15, 2014 (AFP Photo)
The group of emerging economies signed the long-anticipated document to create the $100 bn BRICS Development Bank and a reserve currency pool worth over another $100 bn. Both will counter the influence of Western-based lending institutions and the dollar.
The new bank will provide money for infrastructure and development projects in BRICS countries, and unlike the IMF or World Bank, each nation has equal say, regardless of GDP size.
"BRICS Bank will be one of the major multilateral development finance institutions in this world," Russian President Vladimir Putin said on Tuesday at the 6th BRICS summit in Fortaleza, Brazil.